Sintered Metal Candle Filter
Source:http://www.zwenfilter.com/news/819.html Time:2021-03-22 Hits:38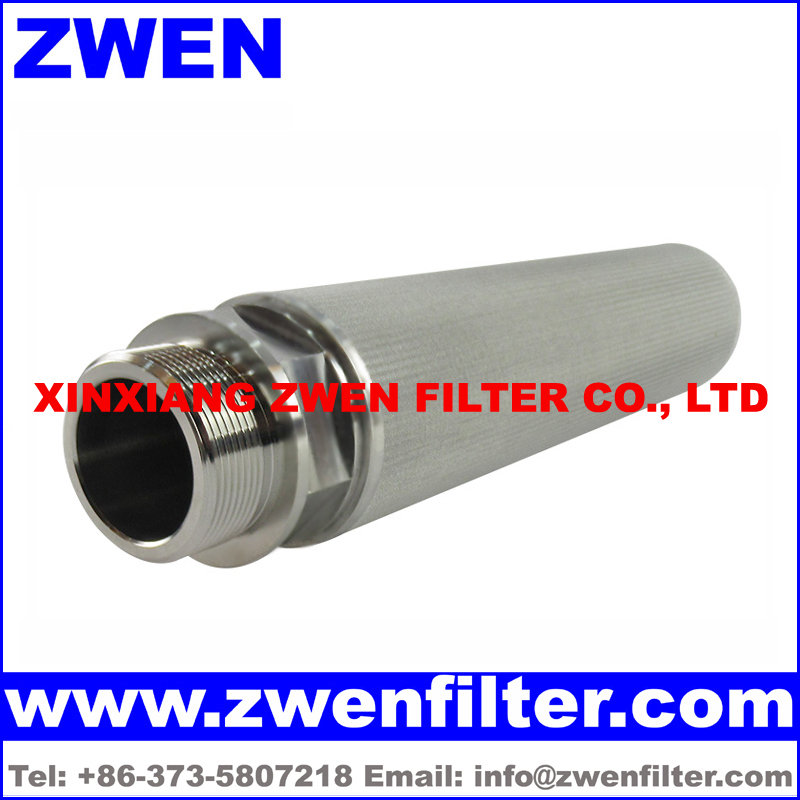 Sintered Metal Candle Filter Technical Parameter

Raw Material: SS 316L, SS 304
Filter Rating Range: 0.5 Micron ~ 2000 Microns
Filter Efficiency: > 99.99 %
Operation Temperature: ≤ 816 ℃
Outside Diameter: 10 mm, 15 mm, 25 mm, 30 mm, 50 mm, 60 mm, 63.5 mm, 65 mm,
100 mm, 150 mm, 250 mm, 380 mm, 500 mm or others
Length: 5'' (127 mm), 10'' (254 mm), 20'' (508 mm), 30'' (762 mm), 40'' (1016 mm) or others
Gasket: PTFE, Viton, Silicone, Buna-n, EPDM
Connector/Fitting/Adaptor:
1. DOE
2. Code 2 (226+Flat End)
3. Code 3 (222+Flat End)
4. Code 7 (226+Fin End)
5. Code 8 (222+Fin End)
6. Thread (NPT,BSP,G,M,R)
7. Flange
8. Special customization
Sintered Metal Candle Filter Feature
1. Sintered metal candle filter has uniform pore size distribution
2. Sintered metal candle filter is good for backwash
3. High mechanical strength
4. High temperature resistance
5. High filter efficiency
6. High corrosion resistance
7. Long service life
Application

Polyester filtration, polymer filtration, membrane filtration, oil filtration, steam filtration, gas filtration, powder filtration, liquid filtration, water filtration, beverages filtration, detergent filtration, solvents filtration, medicine filtration, pharmaceutical industry, petroleum industry, biological industry, chemical industry, chemical fiber industry, food industry
About Us

XINXIANG ZWEN FILTER CO.,LTD produces sintered metal candle filter, sintered metal cartridge filter, sintered metal disc filter, sintered metal disk filter, sintered metal element filter, sintered metal pipe filter, sintered metal plate filter, sintered metal rod filter, sintered metal sheet filter, and sintered metal tube filter.
XINXIANG ZWEN FILTER CO.,LTD has advanced sintering equipment, advanced welding equipment and a high level of skilled workers.
XINXIANG ZWEN FILTER CO.,LTD has passed ISO 9001:2008 quality management system and SGS audit test.
XINXIANG ZWEN FILTER CO.,LTD main markets are European market and North American market.
XINXIANG ZWEN FILTER CO.,LTD Key Clients: 3M, BOEING, GKN, MAHLE, Parker, SIEMENS.
Contact Us
XINXIANG ZWEN FILTER CO.,LTD
FACTORY ADDRESS: NO.425, XINHUI ROAD, MUYE DISTRICT, XINXIANG CITY, HENAN PROVINCE, CHINA
TEL: +86-373-5807218
EMAIL: info@zwenfilter.com
ENGLISH WEBSITE: www.zwenfilter.com
ENGLISH WEBSITE: www.leerfilter.com
CHINESE WEBSITE: www.zwenfilters.com